Commercial Diving & Hyperbaric Product Manufacturers
Submarine Manufacturing & Products (SMP Ltd) is our Preston-based company specialising in the manufacture of hyperbaric chambers, commercial diving equipment and customised subsea equipment.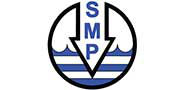 With over 30 years' experience in the marine engineering, hyperbaric and military markets,
SMP
is recognised as a world leader in the design, manufacture and supply of commercial diving, subsea and hyperbaric solutions.
This includes the manufacture of specialist products including diving decompression chambers, pressure vessels and heat exchangers in partnership with WEC Group.
Fully accredited to ISO 9001:2008 and BS EN ISO 14001:2002 for quality assurance and environmental management, customers include most of the major companies/institutions that use high value subsea equipment in the UK and overseas.
As one of the leading European manufacturers of commercial diving equipment, SMP also supply products such as Kirby Morgan diving helmets, breathing air compressors, underwater camera systems, underwater NDT equipment and more.
Servicing and Repair
We offer a full service and repair facility for all types of commercial diving equipment, ranging from air and gas analysis testing to gauge and instrumentation testing, calibration and repair, high pressure cylinders and volume tank inspections.
SMP also offer complete overhauls of air systems as well as full repair and refurbishment of diver's control panels, re-certification, overhaul and re-fits of decompression chambers.
Further to this, SMP supply offshore personnel to the oil and gas industry, including electrical and mechanical dive technicians experienced in programmed maintenance, upgrading and certification of offshore diving installations.
Recent Projects:
Send us your RFQs!