Specialist Laser Processing Engineers
WEC Group acquired Liverpool-based laser cutting company 5750 Components in October 2008.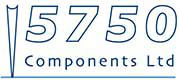 Established in 1994, 5750 Components provide precision CNC laser processing services on a subcontract basis to a range of industries including automotive, environmental, MoD, electronics and retail to name but a few.

Housed within two modern factory units, 5750 is conveniently located near the M57 and M62 as well as the main A580 Liverpool to Manchester East Lancashire Road.

We continuously invest in the latest laser cutting technology and in training of staff to enable 5750 to remain one of the top specialist laser subcontractors in the North, as well as passing cost savings onto our growing customer base.

Capabilities
5750's commercial accurary is better than +/- 0.1mm with a repeatability quoted at +/- 0.013mm. We have the capability to cut mild steel and stainless steel up to 25mm, aluminium up to 15mm and titanium up to 5mm. For larger components, our sister company
WEC Laser
has the capability to cut mild steel and stainless steel up to 30mm and aluminium up to 20mm thickness.
Our state-of-the-art CNC press brakes also have the capacity of 4.27m folding length and 220 tonne press capability, with forming capabilities ranging from thin sheet to plate. As a way of maximising our laser cutting productivity and reducing cutting costs, we have adopted a 24/7 working pattern to ensure our lead times remain competitive.
We have several state-of-the-art laser processing centres, employing the flying optics principle, exclusively available at 5750. This equipment enables complete flexibility in two dimensions without the need for expensive tooling.