Signal Structures, Gantries, Electrification & Footbridges
WEC Rail is a leading force in providing innovative design, fabrication and installation of signal structures, gantries and bridges as well as providing a rail repair service, electrification, electrical enclosures, CCTV products and rolling stock metalwork.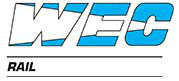 Offering a one-stop-shop service for our customers in the rail industry, we are capable of taking a project right though from the initial design stage to the manufacture and installation of the completed product.

Due to the critical nature of the products we manufacture, WEC Rail is accredited to BS EN and ISO 9001:2015, is RISQS approved and also adopt the FAI approach in all we do.


Signal Structures
We specialise in signal structures, straight post signal platforms, gantry and cantilever type structures for the railway which are all designed with the view of 'ease of installation'. Our highly skilled in-house team of designers offer Form A, Form B, structural calculations and Cat 2 checks.
Railway Bridges
We are experts in the manufacture of railway bridges and offer a fully comprehensive service from design through to fabrication, installation and maintenance. We also specialise in 'Access for All' bridges, walkway bridges and cable bridges which are designed with the view of ease of installation and passenger use.
Rail Repairs
Our dedicated PTS skilled rail repair team carry out a range of on-site repair operations such as structure and bridge repairs, station and canopy repairs/refurbishments, on-site steel repairs and rivet busting.
Electrification
We are actively involved with rail electrification contracts and are a leading manufacturer of overhead steel poles for light rail transit systems and Overhead Line Electrification (OLE). We also manufacture and supply lattice columns for some of the biggest rail contractors in the UK.
Rolling Stock Metalwork
WEC Rail also delivers high-quality rolling stock metalwork to the industry including structural metalwork, underframes, electrical enclosures and body end cubicles for large Rail OEMs and Prime contractors such as Bombardier Transportation.
We also carry rail specific materials such as approved earth bonds and fasteners and work closely with world-class component manufacturers to ensure the highest level of quality.
Thanks to continuous investments in the latest sheet metal and robotic welding technologies, as well as a robust quality system, our specialist divisions have achieved
BS EN 15085 Class 1-4
and
BS EN 3834-2
accreditations for passenger rail and freight wagons. We are also a supplier of Category 1 safety critical parts such as Bolsters, Bogie Frames, Body Shell Components and Fuel Tanks.
Rail Structures/Products: