WEC Group is delighted to have won The Royal Navy Award for Large Employer of the Year at the North West Regional National Apprenticeship Awards 2018.
Beating many blue-chip OEMs and larger organizations on the day to win the award, WEC Group will now go on to represent the North West region and attend the National Finals later this year. This will be the third time that WEC Group has won the award in the past 5 years.
The National Apprenticeships are now in their 15th year and continue to showcase and celebrate outstanding apprentices, employers and individuals who go above and beyond to champion apprenticeships across England.
Kris Mercer, Training & Development Manager at WEC Group said: "We are delighted that our dedication to our apprenticeship programme has once again been recognised. We are truly passionate about our apprentices and harnessing their talent to inspire further generations.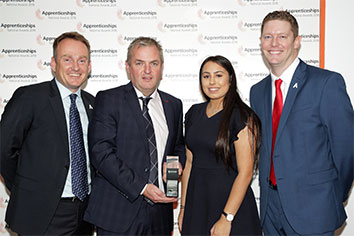 We recognise that offering Apprenticeships is vital to our future growth and closing the Engineering skills gap and we are very proud that we now have some of the best apprentices in the UK and the skills to compete internationally."
Offering various apprenticeships including five-year programmes in welding/fabrication, CNC Machining, Technical Support Engineering and Digital Marketing, and with a dedicated in-house Training School, WEC Group recognise and celebrate the plentiful benefits of apprenticeships. To this end, WEC Group continue to be passionate about providing local people from any background with invaluable engineering experience, ensuring they work as a team, take ownership of projects and show tenacity and passion for their training/skills development. The Group have now extended the apprenticeship programme to welcome applicants over the age of 25, providing them with a route to get back into employment.
WEC Group would like to express their gratitude to everyone who continues to make our apprenticeships a success. And thank you, most of all, to our talented apprentices themselves.
To find out more about our apprenticeships, you can visit our dedicated Training Academy page.
For further information on the National Apprenticeship Regional Awards, please visit the official website.