The new Darwen Town Deal Board, chaired by WEC Group Commercial Director Wayne Wild, has met for the first time.
The members, which include prominant local business owners, Councillors and MPs to name but a few, will use their skills and expertise to help develop a strong investment plan – with the aim of securing up to £25m of Government funding to be spent regenerating the town and surrounding areas.
At the meeting, held at Darwen Heritage Centre, in Railway Road, the group discussed early ideas including a Darwen Town Centre Transformation Programme, the potential for developing new facilities for youngsters, funding for employment and housing opportunities, better transport links and investment for green infrastructure, including parks.
A Darwen Icons and Creativity Programme could also include Darwen Tower, the library and theatre, the new Market Square and help to support popular events like Darwen Live.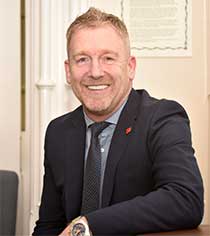 Wayne said "It was fantastic to get us all around the table for our first meeting – though it's still very early days.
"We all have different skills and expertise to offer, but one shared goal – to do the very best we can to secure as much investment as possible for Darwen."
Darwen is one of 101 towns across the country invited to apply for a share of £3.6 billion of Towns Fund investment. Blackburn with Darwen Council has been asked to help lead the application, which is due to be submitted this summer, and bringing the new board together is one of the first steps.
MP for Rossendale and Darwen, Jake Berry, a member of the board, said: "This funding offers a once in a generation opportunity to transform the whole area and we'll all be working really hard to secure the very best deal possible.
"As a board, we will help drive forward the investment plan based on what our residents and businesses think will have the biggest impact and make a real difference."
The Government is expected to issue more detailed guidance on what the fund can be used for by the end of March.
Extensive engagement will be held with residents and businesses as part of developing the investment plan.
Board members:
Wayne Wild – Group Commercial Director of WEC Group Ltd (Chair of Darwen Deal Board)
Councillor Phil Riley – Blackburn with Darwen Council's Executive Member for Growth and Development (Vice Chair of Darwen Deal Board)
Jake Berry – MP for Rossendale and Darwen Councillor John Slater - Leader of the Conservative Group for Blackburn with Darwen Council
Councillor John East – Leader of Darwen Town Council
John Sturgess – Chair of Darwen Town Centre Partnership
Gary Aspden – Darwen resident and global brand and design consultant for adidas
Miranda Barker – Chief Executive of East Lancs Chamber and Lancashire Enterprise Partnership Board Director
John Wilkinson – Regional Director of Suez Recycling and Recovery UK
Janet Pearce – Chair of Keep Darwen Tidy
Glenda Brindle – Chair of Aldridge Academy
Dr Fazal Dad – Principal at Blackburn College
Steve Waggott – Chief Executive of Blackburn