Welding and fabrication specialists WEC Group hosted their 12th annual Apprentice of the Year awards ceremony at WEC Engineering Academy in Blackburn, on Thursday 24th November. The event was held at the Group's newly built training facility on Walker Park, with apprentices, relatives, colleagues and esteemed guests attending the awards ceremony including The Mayor and Mayoress of Blackburn with Darwen Borough Council, Councillor Suleman Khonat and Mayoress Mrs Reyhana Khonat. The event was first held in 2008 to celebrate the many achievements of the company's apprentices' over the previous 12 months.

The ceremony included awards for a wide range of categories including Welding Excellence, Outstanding Academic Achievement, Business Excellence, Commitment and Machining Excellence. Students who have recently completed the first 12 months of their apprenticeship were then presented with trophies, leading up to the main award of the evening for the highly sought after title of Apprentice of the Year. The ceremony ended with a special graduation presentation for the apprentices who have completed their full term apprenticeships at WEC Group. Local welding and fabrication superstar Kieran McShane also received a special recognition award for his recent attendance at the international WorldSkills competition in Cleveland, Ohio, where he represented the UK in the Construction Metalwork category.

Steve Hartley, Managing Director of WEC Group said: "What a fantastic evening we had, recognising all of WEC Group's apprentice's accomplishments over the past 12 months and we could not be more proud of them. Apprentices are an essential part of our company and our future growth plans. This year's event was extra special, as it was the first awards ceremony hosted at our new Engineering Academy."

The state-of-the-art Engineering Academy opened in September 2022 after a 2 year construction process, and a £3m private investment from Steve Hartley without any government funding. Despite very challenging conditions brought about by multiple lockdowns, WEC Group's dedicated team including many apprentices pushed through with the build and continued the vital construction work to get the new training facility up and running. The company's welding and fabrication apprentices fabricated the steelwork for the building and many of the internal components, including staircases, work benches and training bays to name but a few.

Mr Hartley continues: "We take great pride in the fact that our apprentices have fabricated all of the steelwork for their new academy and have massively contributed towards the build of this incredible new training facility. We were delighted to be able to showcase the result of our apprentices' hard work over the past 2 years to their parents and relatives."

The awards presentation was held in the academy's purpose built conference room, with food and drinks later served on the shop floor area of the training facility. Parents and guests also had the opportunity to test their welding skills on the company's new Lincoln Electric Virtual Welding Simulator.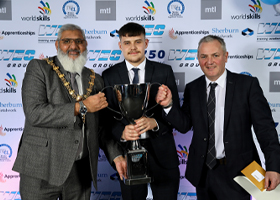 The evening was filled with numerous apprentice achievements, with the highpoint being the main award for 'WEC Group's Apprentice of the Year 2022'. This year's winner was 19-year old Welding and Fabrication Apprentice Jamie Heys from Darwen, who was proudly presented his award by honoured guest the Mayor of Blackburn with Darwen Borough Council. Jamie has excelled through the first 12 months of his apprenticeship and beat stiff competition to be crowned WEC's Apprentice of the Year.

Kris Mercer, WEC Engineering Academy Training Manager said: "Jamie is genuinely passionate about engineering and he is always extremely keen to work on any task given. He has shown fantastic potential over the past year and we were delighted to present him with the Apprentice of the Year Award. I would also like to say a special thank you to both The Mayor and Mayoress of Blackburn with Darwen Council, for attending our awards evening and showing their support for local apprentices."

"We have historically taken on between 10-15 apprentices each year and we were proud to unveil on the evening WEC Group's new vision to train an additional 400 apprentices over the next 10 years. Apprenticeships are the future of our industry and this annual event celebrates WEC's ongoing commitment to apprenticeships. We were thrilled to be once again awarded the Large Employer of the Year title at the National Apprenticeship Awards for the North West, for the 6th time in 8 years. This demonstrates the high quality of training we offer to all of our apprentices, and we will be proudly representing the region at the National finals this week, hoping to bring the title back to Lancashire."