The team at WEC Group is celebrating after once again being recognised in the prestigious Centrica Top 100 Apprenticeship Employers list.
The list, compiled annually by the National Apprenticeship Service, recognises excellence in organisations that employ apprentices. It showcases the breadth of employers who now offer apprenticeships, and we are proud that our organisation is has been recognised for another year.
It was announced at the National Apprenticeship Awards, which took place on 18 January at the Grosvenor House in London, after WEC Group was shortlisted for the regional "Large Employer of the Year" award in 2017 and received Highly Commended.
Our welding/fabrication apprentice, Jonathan Holding, was also shortlisted for the regional Apprentice of the Year Award and received Highly Commended for his talent and commitment.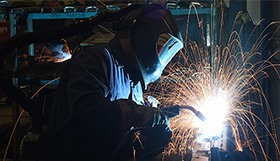 Apprentices are hugely important to our organisation, from those who are training in welding/fabrication, CNC machining and technical production engineering to marketing and business and administration.
Steve Hartley, Managing Director of WEC Group and founder of our in-house Training Academy said: "Being recognised in this list once again is a fantastic achievement. We put a huge amount of effort and money into ensuring our young people get the best training possible."
Our Academy is one of only a few TWI (The Welding Institute) certified welder training centres in the North West, and our Training & Development Manager Kris Mercer is a CSWIP examiner and instructor which means our apprentices are trained to the highest international standards.
Kris added: "This recognition is something we are always extremely proud of. We have trained over 100 apprentices since we opened the door to our Academy in 2006, and our turnover has nearly trebled since the Apprenticeship programme began."
WEC Group will soon be recruiting engineering apprentices to join our Lancashire, Yorkshire and Merseyside sites in September 2018. If you are interested in kick-starting your career in engineering, or know someone who might be, please visit our Academy page for more information or send your CV to recruitment@wecl.co.uk.