Engineering & Fabrication specialists WEC Group have announced a major Apprenticeship recruitment drive at their newly built Engineering & Welding Academy in Blackburn, Lancashire, as well as their Knowsley, Rotherham, Coventry, and Sherburn-In-Elmet based divisions.

Already an established Apprenticeship provider (WEC was awarded the Large Employer of the Year title at the National Apprenticeships awards in 2020), the new recruitment drive will see the company more than double their annual intake of apprentices for 2021, with a total of 53 new apprentice vacancies currently advertised for their September intake.

The announcement comes on the back of a very strong business performance for the Group for Q1 of 2021, with manufacturing output currently much higher than pre-COVID levels and the company recording a record ever month in March 2021.

WEC Group's Managing Director and Founder Steve Hartley said: "Apprentices are the lifeblood of any forward-thinking businesses. Since starting our apprenticeship scheme in 2006, WEC Group has grown from 200 employees to over 900, creating a loyal workforce by harnessing fresh talent and skills. Our apprenticeship scheme has been extremely successful over the years, and this is why we've decided to forge ahead with our plans to invest around £3m to build a brand-new Training Academy in Blackburn, despite the challenging trading condition over the past year. This will give us the means to create a lot more apprenticeship positions every year and allow us to continue growing."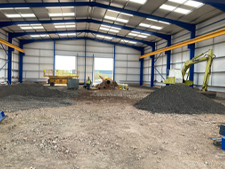 WEC Group's new 25,000ft² state-of-the-art Academy is currently under construction at Walker Park Industrial Estate, adjacent to the company's specialist Machining division. Building work started in August 2020 and current WEC Apprentices fabricated the structural steel work for the building which will be opening its doors in September 2021. With two classrooms, 33 welding bays, and the very latest metalworking equipment, the new facilities will also enable WEC Group to partner with local schools, colleges and companies.

Continues Mr Hartley: "We are 100% committed to investing in apprenticeships as they are vital to our future growth and ongoing success. The new Academy will enable us to tackle the worrying skills gap which is crippling many engineering companies locally. Apprentices are the most important asset to our business and they remain at the heart of our long-term strategy."

As a member of The AWFTE (Association of Welding & Fabrication Training & Education) and a TWI (The Welding Institute) certified welder training centre, the new WEC Academy will also give other engineering employers the opportunity to upskill their existing staff, creating a significant boost to skills levels and the local job market.

The new Academy will also provide opportunities for apprentices based at various divisions of WEC Group across the country and act as an end point assessment centre for other local apprenticeship providers in partnership with the Welding Institute.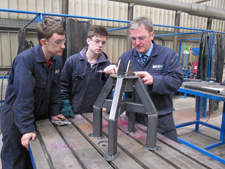 Kris Mercer, WEC Group's Training Manager said "We are delighted to welcome more local individuals to our brand-new Apprentice Academy at the beginning of the next academic year. The new facility will allow us to provide high quality programmes, not only in Welding & Fabrication, but also in CNC Machining, Laser and Press Operations to name but a few."


The WEC Training Academy originally opened its doors at the Group's headquarters in Darwen in 2006 with an initial capacity of 6-12 apprentices, and over 200 students have since come through its door, leading to successful careers in engineering. Over 50% of WEC Group's welding workforce in Darwen are current or former apprentices trained in their academy, and the increase in skills levels across the business has allowed the company to win many large international contracts which were previously beyond their reach.

The WEC Academy has received multiple prestigious awards over the past few years highlighting the high quality of training received by their apprentices with one former apprentice, Tyler Atkinson representing the UK in Construction Metalwork in WorldSkills international in Kazan Russia whilst being ranked top 10 in the world. More recently another WEC apprentice who excelled in regional and national skills competitions is Kieran McShane who will now face the top 10 competitors in the world in Shanghai 2022.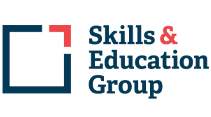 The Academy has also recently achieved the Skills & Education Group Awards Centre Recognition Certification, meaning that the new facility will now be able to provide level 1-3 Engineering qualifications.


Kris added "Receiving the Skills & Education Group Awards Centre Recognition Certification means an exceptional amount to us as a Group. Over the past 15 years, we have worked incredibly hard to provide apprenticeship schemes that have an immense impact on the local individuals who join us.

We have a great team of highly skilled Instructors and we look forward to the future of our Training Academy and cannot wait for the new facility to open in September.

Our next cohort of apprentices will have the chance to learn lifelong skills in a very modern setting, and we would like to encourage any local individuals willing to start a fresh career to apply through our website"

For more information about WEC Group's Training Academy and Apprenticeship opportunities, visit their current vacancies page.