WEC Group Welding & Fabrication Apprentice Kieran McShane has been selected to represent the UK at the international WorldSkills 2022 Special Edition competition in the Construction Metalwork category.

Often dubbed as 'The Skills Olympics', the biennial international charity supports young people across the world via competitions-based training, assessment and benchmarking, with members' national teams ultimately testing their ability to achieve world-class standards.

Kieran McShane, a fifth year apprentice at Darwen-based Metal Fabrication and Engineering specialist company WEC Group, started his career at the company's apprentice Training Academy in 2018. He quickly showcased a natural ability for welding and fabrication and he was entered into the regional and national WorldSkills competitions in 2019, with his participation culminating in a silver medal which lead to his SquadUK selection for the international leg of the competition.

Originally planned to take place in Shanghai 2021, the WorldSkills event was initially postponed until 2022, and then later unfortunately cancelled altogether due to ongoing lockdowns in China. After much deliberation between WorldSkills Members and Global Partners, the event has now been rescheduled and the WorldSkills global network will host the competitions in various countries from September until November 2022.

Kieran McShane said: "I was really disappointed when I was told that the Shanghai event was cancelled, however when I found out that the Construction Metalwork category has now been moved to Ohio, I was over the moon, it's definitely going to be an amazing experience. I'm really looking forward to competing against talented welders from across the world and I'm hoping to bring home a medal!"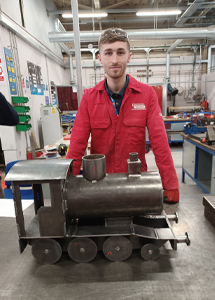 The last edition of the event was held in Kazan, Russia in 2019 and saw fellow WEC apprentice Tyler Atkinson proudly represent the UK against competitors from China, USA, Korea and Brazil amongst others. The aims of the competition are to demonstrate the advantages of learning a vocational skill and encourage highly sought values such as team work, competitive spirit and leadership.

WorldSkills UK Training Manager Andy Whitehouse, who has been working with Kieran since the very beginning of his apprenticeship commented: "I am extremely proud of Kieran for his dedication and hard work in achieving the International standard in welding and fabrication. Being a product of the WEC Academy has given Kieran the solid foundations to grow and now with his added attention to detail, his focused adaptability and strong positive mind-set all come together to make him ready to take on the rest of the world and represent our county at the International competition finals."

"Kieran knows what he has to do, he knows how to do it, and it is now a matter of going out there and delivering. We're all with you Kieran."

Kieran has been training for the event at WEC Group's new state-of-the-art Engineering Academy in Blackburn, Lancashire. The new facility is the UK's first Lincoln Electric Centre of Excellence and is equipped with the latest welding technology for apprentices to train on during their apprenticeships.

As part of his final preparations for the competition, Kieran will be travelling to Finland this week as part of SquadUK to take part in an International Pressure Test against fellow international WorldSkills competitors.

WEC Group's Training Manager Kris Mercer said: "The whole of WEC Group are incredibly proud of Kieran's achievements, having a WEC Group apprentice represent the UK for the second time running is a great testament to our ongoing commitment to training the next generation of engineers. Kieran is an absolute credit to our Engineering Academy and has shown how hard work and determination can lead to incredible progression and life changing opportunities. This is a fantastic opportunity and we are looking forward to following him on his journey and his future successes. We will all be cheering him on to bring a gold medal back to the UK!"

For all the latest updates and information about the WorldSkills 2022 Special Edition Competition, visit their website.