A WEC Group Training Academy apprentice has made it one step closer to competing at WorldSkills Kazan 2019 as part of Squad UK.
Tyler Atkinson, a third year welding/fabrication apprentice, brought home silver in last year's WorldSkills UK Construction Metalwork competition and has now progressed to Phase 4 of the squad selection process.
The WEC Group Apprentice of the Year 2016 award winner will participate in a rigorous technical skills training and assessment programme in order to secure his place on the world stage.
Using techniques and methodology from elite sport, the 12-month programme consists of two strands; 25 days of technical skills development and up to 2 preparation boot camps.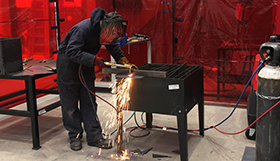 The first Squad UK bootcamp will take place at Lougborough University in April, where Tyler will receive coaching and productivity training to enhance his performance in the work-place and in the competition.
He may then be selected to compete at EuroSkills Budapest 2018 in September based on his performance.
Kris Mercer, Training & Development Manager, said: "We are extremely proud of Tyler for getting so far into the competition. He has a natural talent for metalwork and this is a fantastic opportunity for him, as it is sure to boost his career prospects as well as his confidence."
Our apprentices have won gold, silver and bronze medals in Construction Metalwork for three years in a row. Thomas Woodburn, also a welding/fabrication apprentice, was the gold medal winner in 2015 and still holds the record for the highest score ever recorded in the competition so far with 93.5%.
At WEC Group Training Academy, we provide traditional five year apprenticeships in welding/fabrication, CNC machining and technical production engineering. We have also recently expanded to other areas of the company including CAD programming, business administration, IT and marketing.
We are now recruiting welding/fabrication apprentices to join us in Darwen and Rotherham, as well as CNC machining apprentices to join us in Blackburn in September. If you would like to kick-start your career in engineering, please send your CV to recruitment@wecl.co.uk or download an application form from our vacancies page.