Darwen headquartered engineering & fabrication company WEC Group Ltd were recently awarded The British Army Award for Large Employer of the Year for the North West at the National Apprenticeship Awards 2022.

We are extremely proud to have received this prestigous award for the sixth time in eight years, demonstrating our long term commitment to tackle the skills gap that plagues the manufacturing industry in the UK. WEC Group will now go on to represent the North West in the national finals which will take place on Wednesday 30th November.


Now running in their nineteenth year, the National Apprenticeship Awards provide local businesses from a range of sectors with the opportunity to celebrate the achievements of outstanding apprentices and their employers. The high profile event receives over 1000 applications every year and WEC Group was one of only a handful of companies to make the shortlist for their regional event.

This award comes on the back of a recent £3 million investment from WEC Group's Managing Director Steve Hartley, to build a new Engineering Academy located at Walker Park Industrial Estate in Blackburn.

Despite the challenges over the past two years for the manufacturing industry as a whole, WEC Group forged ahead with their plans to build the new 25,000ft² state-of-the-art facility with construction taking place between February 2020 and August 2022. With 33 welding bays, 2 classrooms and the very latest metalworking equipment from leading welding equipment manufacturer Lincoln Electric. The new WEC Engineering Academy was recently recognised as the first Lincoln Electric centre of welding excellence in the UK, which will enable the WEC to deliver advanced welding education programmes that were previously only available in the US.

Steve Hartley, Managing Director at WEC Group said "We are thrilled to have been named as the North West's Large Apprenticeship Employer of the Year 2022. It is a testament to our commitment to training young people and set them on a path to a very successful career in engineering. I'm passionate about our apprenticeship scheme as I started out as an apprentice welder myself many years ago."

WEC Group first opened the doors of its training academy in 2006 as a response to their inability to fill skilled engineering positions at the time due to a local skills shortage. Initially taking in 10 apprentices a year, WEC's apprenticeship scheme has gone from strength to strength and the company's intake of apprentices has gradually increased to over 40 a year. The scheme has now been expanded to other areas of the business including CNC machining, laser/press brake operations and project engineering to name but a few.

Mr Hartley continues "Over 200 apprentices have come through the doors of our Academy since it opened its doors in 2006 and our vision for the next 10 years is to create over 500 more apprentice positions. We also aim to introduce engineering to over 2000 students through school visits and open day events."

Over 50% of the company's welding workforce in Lancashire are now current or former apprentices trained in the WEC Engineering Academy, resulting in a much higher skills level within WEC Group's manufacturing operations. This has in turn enabled the business to win large international contracts which were previously beyond their reach, with the staff count having increased from 173 in 2006 to almost 900 today as a direct result of WEC's investment in skills.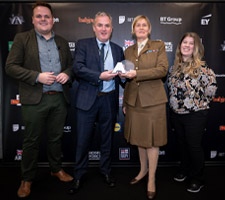 WEC Group are no stranger to apprenticeship success after Tyler, one of their highly skilled welding apprentices recently represented the UK at the international WorldSkills Olympics in Construction Metalwork in 2019, being ranked in the top 10 apprentice welders in the world.

Another WEC Group Apprentice has also followed in Tyler's footsteps, Kieran has recently been selected to represent the UK at the WorldSkills Special Edition, competing at Lincoln Electric's headquarter in Cleveland, Ohio in October 2022.

Kris Mercer, Academy Manager & Master Welding Instructor at WEC Group said "It is fantastic news to have won this prestigious award for the sixth time. Apprenticeships are at the heart of our continued success and growth and we are incredibly proud of everything we've achieved since we opened our Academy. Our new training facility in Blackburn will allow us to build on our past successes and create more opportunities for local individuals and we look forward to starting many new successful careers."

WEC Group are currently recruiting apprentices for their September 2023 intake, with a variety of engineering opportunities available across their UK based divisions. For more information about WEC Group's available apprenticeships or to apply, visit our current vacancies page.

For more information about the National Apprenticeship Awards, please visit their website.