WEC Group's engineering apprentices have put their new fabrication and machining skills to the test in order to manufacture major parts for a research space rocket.
Within just four weeks, WEC Group Training Academy apprentices fabricated a rocket propulsion system and fitted the rocket's fin brackets which were cut at the company's in-house waterjet division.
The 8.3 metre tall Skybolt 2 rocket, created by Starchaser Industries, is set to launch in September as a way of engaging young people and inspiring them to pursue science technology, engineering and mathematics as part of their education.
Expected to reach 4000 feet in just 17 seconds, the carbon fibre rocket will contain and test an array of electronic instruments which could potentially be used in future flights.
The rocket boosters are now being fitted in Cheshire before coming back to WEC when the apprentices will manufacture the launch pad to prepare for lift off.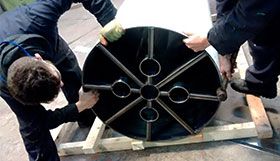 Steve Bennett, Starchaser CEO and Founder, said: "WEC Group's apprentices have done a sterling job in building the assembly that holds Skybolt's propulsion system in place, a vital piece of engineering without which this ground breaking rocket would not fly.
"These guys are putting us another step closer to our goal of putting Britain back into space."
In order to manufacture the rocket propulsion system, the apprentices used advanced welding and fabrication processes including Aluminium TIG and MIG welding as well as CNC machining.
They rolled and formed the aluminium motor carrier and drilled countersunk the body, as well as machining tube to very accurate dimensions with tight tolerances. These processes will allow expansion and contraction when the rocket experiences different temperatures during the flight.
Kris Mercer, Training & Development Manager at WEC Group, said: "The apprentices are really excited and keen for the launch. Projects like this keep them engaged and interested in engineering."
This is the first time WEC has built a rocket, but the company has assisted with the manufacture of launch pads and parts before.