WEC Group has invested another £500,000 in its waterjet operation as the division continues its rapid growth, which brings the total amount invested in WEC Waterjet during its first 18 months of trading to just under £1 million.
The brand new dynamic waterjet cutting machine has significantly improved our capabilities by increasing our cutting capacity.
The waterjet has a 7.3m x 2.4m bed, a much larger version of our existing kit, and has the capability to cut up to 200mm thickness for any material and can also cut a 3mm diameter hole in 100mm thick material.
Investments in the latest waterjet cutting technology have enabled the division to win large offshore contracts that have benefited other businesses across the group.
The division has also increased its manufacturing floorspace by an extra 10,000 sq ft as part of its growth plan, which is set to lead to the creation of another six jobs this year.
The latest kit and the recent partnership deal with MTL Advanced has boosted our total number of waterjet machines to four, and the largest waterjet machine we have available at the MTL site has the capability of cutting 12m x 3m.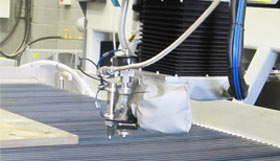 The improved capacity and capability will allow both companies to move forward as much stronger entities.
WEC Waterjet is also targeting the aerospace sector for work after receiving AS/EN 9100 accreditation, which is key to gaining contracts as part of the supply chain network.
Gareth Taylor, director of WEC Waterjet, said: "WEC Waterjet is the first company in the UK to acquire three dynamic waterjet cutting machines after only 18 months of trading and it is an indication of just how the business has taken off.
"We are seeing demand for our services in a number of sectors and we are currently looking to gain work in the aerospace sector, where we see some great opportunities.
"We're also looking to double our staff at WECJet during 2015 operating out of modern premises on a site that has the room for further expansion."
To discuss your waterjet cutting requirements, please contact us on:
T:
01254 773 718
E:
info@wecl.co.uk