WEC Group has won the BAE Systems Award for Large Employer of the Year in Liverpool City Region, Cumbria and Lancashire at the National Apprenticeship Awards regional ceremony.
Beating Silentnight Brands to the top spot, the Group will now compete for the chance to represent the North West in the national finals on 20 January 2017 at the Grosvenor House Hotel, London.
The Awards, now in their thirteenth year, are run by the National Apprenticeship Service and recognise excellence in two areas: businesses that grow their own talent with apprentices and apprentices who have made a significant contribution to their workplaces.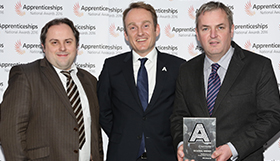 Kris Mercer, WEC Group's Training & Development Manager, said: "We are extremely delighted and proud to be recognised by the National Apprenticeship Service for our commitment to investing in apprenticeships.
"We put a huge amount of effort and money into ensuring our young people receive the best possible training, setting them up for a rewarding career in engineering and helping to close the worrying industry skills gap."
WEC Group won the award in recognition of the contribution the company has made to investing in apprenticeships.
Offering five-year programmes in welding/fabrication, CNC Machining and Technical Support Engineering at its unique in-house Training Academy, the scheme is fully funded by the company and over 100 apprentices have passed through the doors since it was founded in 2006.
Sue Husband, Director of the National Apprenticeship Service, said: "The National Apprenticeship Awards enable exceptional apprentices and dedicated employers to receive the recognition they richly deserve. Apprenticeships enable people to gain the skills and knowledge they need to succeed - in some cases up to degree level; and for businesses to grow the talent they need.
"WEC Group has won the Large Employer of the Year Award in Liverpool City Region, Cumbria and Lancashire and I would like to congratulate them on their achievement. Winning this award is greatly deserved. There has never been a better time to become an apprentice or employ one."
The very best employer category entries are also in the running to feature in the prestigious Top 100 Apprenticeship Employers list 2016, which WEC Group previously featured in two years ago.
To find out more about the National Apprenticeship Awards, please visit the official website.