A WEC Group Engineering and fabrication apprentice from Darwen, Lancashire has won Gold at the WorldSkills UK Competition final in Construction MetalWork.
18 year old Thomas Woodburn, a third year apprentice from the WEC Training Academy, won the accolade after beating off stiff competition, including four other WEC Group apprentices at the three day competition which was held at the NEC, Birmingham from 19 - 21 November.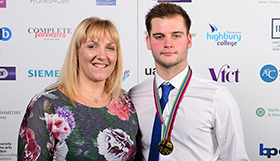 He will now spend the next two years preparing to compete and represent the UK at the WorldSkills competition in Abu Dhabi, which takes place from 14 to 19 October, 2017, as part of "Squad UK".
Thomas secured a place at the WorldSkills UK National final after scoring very highly in the Construction MetalWork regional heats, managed by SEMTA, which took place earlier this year.
WEC Group Training Academy apprentices competed against almost 100 entrants from around the UK to make it to the final 13 - with WEC and East Lancashire contributing almost 50 per cent of the national finalists.
24 year old Chris Taylor, who just started the fifth year of his apprenticeship at WEC Group, also managed to snatch the Bronze Medal, scoring higher than previous gold medallists.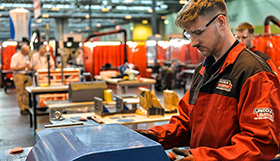 Kris Mercer, Training & Development Manager at WEC Group said: "We are very proud of all our apprentices' achievement and it's a tribute to the investment by WEC Group in our Training Programme and the hard work put in by the lads themselves. The competition was fierce and all other finalists did really well, several of which had already taken part in previous years."
"All our apprentices did fantastically, considering it is the first time WEC apprentices have entered the competition and we have achieved both regional and national wins in less than 6 months of signing up to the competition."
The standards of the competition were extremely high this year and Thomas Woodburn's score of 93.5% won him Gold with other WEC Apprentices Chris Taylor, James Ennis, Ryan Smith, and Harry Chadwick, only a couple of points behind.
Kevin Scott, WorldSkills UK Technical Lead and national judge of the 2015 Construction Metalwork Competition said: "On behalf of AWFTE, Semta (organising partner), I would like to offer my congratulations to Thomas Woodburn of the WEC Group, who achieved the highest score to date in winning the WorldSkills UK National final in our category."
Gold Medallist and new recruit of Squad UK Thomas Woodburn said: "I am very proud of what I've achieved and I would like to say a big thank you to Kris Mercer for getting us all to this stage. I must admit that hearing my name announced as the winner was a shock...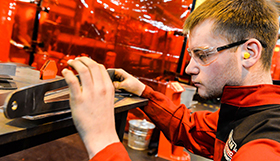 "The standards were so high that I didn't expect it! The finalists from other companies were all older and a lot more experienced and on the third day of the competition I was running out of time to complete my fabrication... but I managed to finish it in the nick of time!
"A big thank you as well to World Skills and the judges. I'm really looking forward to training with Squad UK and preparing for the chance to represent the country in Abu Dhabi."
Thomas will now participate in a training and development programme which will include the selection of Team UK ahead of WorldSkills Abu Dhabi 2017.
The development programme will include a series of milestones and benchmarks which Squad UK Competitors must achieve to progress. By taking part in the WorldSkills Competition, the UK is able to share best practise in apprenticeships, further education and skills with countries around the world, raising standards on a global scale.
Carole Stott, Chair, Find a Future, which manages the UK's entry into the WorldSkills Competition said: "I offer my congratulations to every young person that has earned a place in Squad UK and we are grateful for WEC Group's continued support of Thomas Woodburn training. Working together we can showcase the levels of performance that can be achieved by individuals and organisations through high quality further education, skills training and apprenticeships."
The UK is currently seventh in the WorldSkills rankings after winning three Gold, four Silver and two Bronze medals at WorldSkills Sao Paulo 2015.