A stunning piece of artwork created by Lancashire-based fabrication and engineering company WEC Group has taken pride of place in the heart of an Oxfordshire market town.
The dramatic sculpture - called 'The Swirl' - was created by the company's
m-tec division
which specialises in architectural metalwork fabrication and is the latest in a series of high-profile projects it has been commissioned to create across the world.
Designed by architect Maria Rosa Kramer, the £85,000 sculpture is now turning the heads of locals and visitors to Didcot.
Her striking work resembles the peeling of an apple and was inspired by Oxfordshire's great apple growing tradition.
The Swirl was created for the Orchard Shopping Centre in the town and members of the Darwen-based m-tec team were also involved in its installation.
The sculpture stands eight metres high and is supported by three vertical legs. Its fabrication is grade 316 stainless steel, which is mirror polished and it is finished with red paint on one of its faces to represent the colour of an apple.
Tom Elliot, the divisional manager of m-tec, one of Darwen-based WEC Group's 12 divisions, said: "We are delighted to have turned Maria's vision into reality. The finished piece of artwork really is striking.
"The owners of the shopping centre and the public in Didcot have given great feedback on this stunning sculpture and they are delighted to have it as a centrepiece of their shopping area.
"The Swirl is the latest in a series of high-profile artwork which m-tec has been commissioned to create and, as with all our projects our skills in high-quality architectural fabrication stand out."
London-based architect Maria Rosa Kramer had her design selected in a competition advertised by the Arts Council of England. She is delighted by m-tec's work to turn her vision into reality. She said: "It was fantastic to finally see it in context and I think it looks better in reality than it did in the designs too."
"I like the mirror-effect of the stainless steel, because people have been stopping to look at their reflections, so that's great."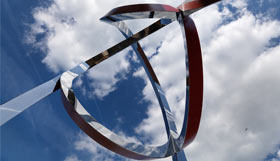 The project to bring a large scale public art to act as the centrepiece of the Orchard Centre was funded by planning contributions from the Orchard Centre development, Hammerson the leaseholders of the Orchard Centre, and South Oxfordshire District Council.
Councillor Ann Ducker, Leader of South Oxfordshire District Council, said: "It's a very striking piece of art which gives the Orchard Centre as sense of identity and I'm sure it will become a great icon and talking point in the town for many years to come."
Other projects carried out by the m-tec team include the distinctive Airbust sculptures which can now been seen at various BAE Systems operations across the UK and the Darwen Spitfire Memorial in WEC Group's home town.
It has recently delivered its first African order - an impressive stainless steel globe that now stands on a prominent roundabout in the Nigerian city of Uyo, which is in south-eastern Nigeria and is the capital of Akwa Ibom, a major oil-producing state.
The WEC Group is one of the largest engineering and fabrication companies in the UK with a turnover of more than £35 million.
WEC carries out fabrication work for industries ranging from rail to offshore oil and gas extraction.
Its manufacturing ranges from footbridges and bus frames, to log-fired stoves and street furniture across 12 divisions and with operations in its home town of Darwen as well as Blackburn, Knowsley on Merseyside and Leeds.
The privately owned group, which is the largest subcontract engineering company in the North West, was founded in 1979 by business partners Steve Hartley and Ross Place.