The academy, which offers five year apprenticeships in engineering, fabrication and welding to local youngsters at WEC's bases in Darwen and Blackburn, has been named one of the best large companies in the Liverpool, Cumbria and Lancashire region.
Winners at the regional finals in Liverpool on September 11 will go through to compete nationally and WEC's academy is up against firms such as Rolls Royce and ITV in the BAE Systems Large Employer of the Year 2014 (250 – 4,999 employees) category.
The National Apprenticeship Awards celebrate employers who can showcase their commitment, contribution and the success that apprenticeships have brought to their organisation.
The WEC Group is one of the North West's most prominent engineering businesses. Privately owned, it has a turnover of more than £35 million and more than 400 staff across all 12 divisions. It is also the largest subcontract engineering company in the region.
It launched its training academy in 2006 to meet a worrying skills shortage in the high-end fabrication sector.
The company realised it could not grow as quickly as it wanted to because it could not find welders skilled to the level required.
Today, 10 per cent of its total workforce is made up of apprentices. The majority are welding apprentices and they make up 28 per cent of the group's welding workforce.
The academy, headed by Kris Mercer, has put together a programme to train people to the high standard required by WEC Group as it continues its growth and development. The programme consists of a five-year apprenticeship, which includes time at the training academy, three years at college on day release and work carried out on the shop floor.
Steve Hartley, managing director of the WEC Group, said: "It's a massive achievement for us to be shortlisted in this category as we are at the smaller end of the scale compared to companies like Rolls Royce with all the resources they have.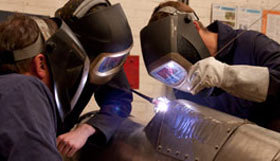 "We put a huge amount of effort and money into ensuring our young people get the best training we can give them. It sets them up for a rewarding career in the engineering industry.
This nomination is a tribute to Kris Mercer, who heads up WEC's training academy, and all the staff who contribute to making it a success year after year.
"We are proud of our young people who themselves put in a lot of hard work to complete their training and education.
"Our continued commitment is demonstrated by the fact the academy is expanding, providing training in other parts of the business including machining and technical support. The plan is to eventually double the intake to more than 20 apprentices per year."
The WEC Group's apprenticeship programme allows trainees to work on community projects, such as the manufacture and installation of a new dome for the Darwen Jubilee Tower. Another high profile project was the fabrication of a stainless steel Spitfire Memorial Sculpture for Darwen town centre, the group's home town.
These projects give apprentices the chance to work with local groups whilst developing their skill sets. They also act as ambassadors for the group and the apprenticeship scheme visiting schools.
Apprentices have progressed in the business to foreman and project engineer status. One is currently project engineer on a £1 million-plus contract.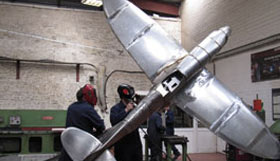 One apprentice Ben Whalley says: "My apprenticeship has given me a skill nobody can take away.
"It has disciplined me and given me the drive to do more. I now want to get a degree. I'd like to be a role model for youngsters in the trade."
His colleague Amir Khan adds: "I've proven with no background experience before my apprenticeship that anyone can give engineering a shot and work towards a bright and secure future.
"The company has made a huge impact on my life, the skills I've learnt don't only get applied at work but also at home or when out and about."
WEC Group's training academy has received praise from Prime Minister David Cameron and Business Secretary Vince Cable, both of whom have visited.
The Prime Minister praised the scheme and WEC Group's commitment to providing facilities and training, especially in difficult economic times.
The WEC Group has also hosted several fact-finding visits from other manufacturing groups looking to emulate our industry-leading training programme.