WEC Group Ltd has signed a deal to become the main sponsor of Blackburn Rovers FC social media for the rest of the season as a way of promoting its engineering apprenticeships and skilled vacancies.
The Group has a long-standing association with the club having sponsored the Darwen End stand from 2008 until 2012.
With strong ties to the local community, this deal is an expansion on being the main club sponsor for local football club AFC Darwen, and also falls in-line with the Group's current recruitment drive for apprentices to join our Darwen and Blackburn sites in September.
Wayne Wild, WEC Group Commercial Director and avid Blackburn Rovers supporter said: "We are always keen to strike partnerships with local clubs, in particular Blackburn Rovers, as the national exposure available boosts brand awareness on a huge scale, and helps us to gain local exposure to attract skilled individuals and apprentices to our rapidly expanding company.
"WEC is proud to be associated with Rovers, and as a lifelong supporter I am hoping the results of our partnership will match more success on the pitch!"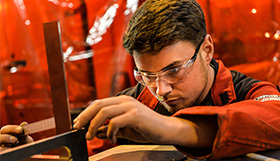 WEC Group's in-house Training Academy is the only apprenticeship scheme of its type in the UK, offering traditional five year apprenticeships to local individuals in welding/fabrication, CNC machining and technical production engineering as well as recently expanding to other areas of the company including CAD programming, business administration and IT.
Wayne added: "The club's target audience for social media is exactly the kind of people we are trying to reach out to as a way of promoting our fantastic apprenticeship schemes, as they provide local people with a practical alternative to going to college or university as well as equipping them with the high-quality skills they need to carve out a successful career in engineering."
Danny Davis, Rovers' Business Development Manager, said: "It's great to partner with a successful local company and specifically to help them recruit locally, thus providing Blackburn and Darwen with skilled individuals and providing ambitious youngsters with a fantastic opportunity."
As one of the fastest growing engineering companies in the UK, WEC Group has seen an 80% increase in staff over the past 18 months and currently employs over 800 people. A major recruitment drive is underway and there are over 40 live job vacancies at our various sites across the country.
This includes multiple office and field-based sales roles for our laser and waterjet cutting divisions in Lancashire, as well as a range of laser programming and business development vacancies at 5750 Components in Liverpool, engineering and machining vacancies at MTL Advanced in Rotherham and operator roles at HTA Group in Coventry.
As the company continues to expand across the UK, WEC Group is now also recruiting field based sales representatives in Dublin and Belfast for the first time as a way of growing our operations further.
Please view the current vacancies page to see our current job openings across the UK and to apply online.