WEC Group has invested in a Citizen L32 multi-axis sliding head lathe as it continues to move forward in the Aerospace industry.
The state-of-the-art machine is the third addition to Group's sliding head cell at its 33,000 sq. ft. purpose built machining facility in Blackburn, Lancashire.
With 7 axis and the ability to mount up to 30 tools at any one time, the sliding head technology can achieve diverse shapes and sizes and will run for 24 hours a day in order to help improve on lead times for existing and new customers.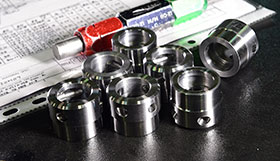 This recent investment complements our existing Miyano ABX-64SYY machine which was commissioned at WEC Machining Ltd in 2016, as well as the Citizen M32 sliding head lathe commissioned in 2015, to manage the division's increasing volume of orders for close tolerance Aerospace industry components.
Steve Fitzpatrick, Director and Shareholder of WEC Machining Ltd, said: "We have invested steadily over the past two years in this specific technology and are seeing huge benefits in the quality of components and improved delivery lead times."
"The scope of our AS9100 Aerospace approval has now been increased to include 3, 4 and 5 axis machining and assembly work, and the sliding head cell is helping us cope with the increasing demand we are seeing from the Aerospace sector in particular."
WEC Group has been heavily involved with the Aerospace industry for many years, supplying components, jigs and fixtures for various aircraft assembly facilities across the world.